Hundreds of stories. Thousands of readers. Motivating every child to read.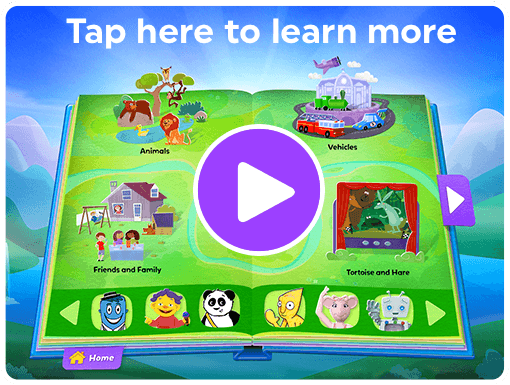 Watch a short preview about Speakaboos
Start Your FREE 7-Day Trial Now!
How It Works
Topics and Characters Kids Love
Testimonials
Amazing, engaging reading program. SPEAKABOOS. Fun, exciting, and educational at the same time. Learn and love to read! — First-grade teacher
Boston, Massachusetts
Speakaboos is the perfect reading tool that my students need to enrich their literacy experiences. The Speakaboos digital books provide good reading skills, especially in a phonics reading program, which will improve their spelling and decoding skills. Also, this type of reading will help to expand their vocabulary. — Mrs. Aquillar, teacher, Ricardo Lizarraga Elementary School
Los Angeles, California
This website has books to go with each child's interest and it makes reading time more special.... It seems that each child has a favorite story that brings a reaction out of them. — Mr. Cirelli, reading specialist
Salt Lake City, Utah
Students get excited when I say we are going to use [Speakaboos]. They don't tire of hearing the stories repeatedly. They gain skills in fluency when they practice reading the stories over and over again. — Kindergarten teacher
New York, New York
Speakaboos is an amazing app that helps children fall in love with books digitally. — Parent of a 4-year-old
Philadelphia, Pennsylvannia
Speakaboos allows my students to focus on books geared towards their particular reading capabilities. The books allow my students to gain confidence in their reading. They are able to listen and watch the interactive story come to life, later read the story on their own, and eventually read to their parents, creating a bonding time rarely seen in our community. — Mr. Jones, teacher, Brentwood Academy
East Palo Alto, California
Speakaboos presents beloved tales in such a new and exciting way that even students who are familiar with them will be amazed and engaged. I know that using this program will spark fascinating discussion and exploration in my classroom and help me instill life long reading habits in my beginning readers. — Mrs. Brown, kindergarten teacher
Chicago, Illinois
Get Your Child Reading Today!
All Your Favorite Characters on All Your Favorite Devices
Start Your FREE 7-Day Trial Now!