The Only Interactive Digital Library Designed for PreK—2nd Grade.
The Speakaboos Educational Platform Brings Research–Based Content to Your Classroom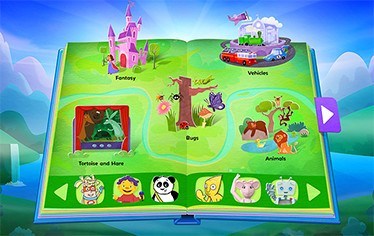 Capture Interest and Motivate Kids to Read
Speakaboos growing library of 200+ stories and songs, both fiction and nonfiction, is presented in categories that kids told us represent their interests: princesses, robots, vehicles, monsters, and more.
Research
Kids love to learn in their area of interest. Interest in the content is what motivates a child to learn more and ensures he is attending to and actively engaged in what he's learning. After a while, that interest becomes an island of expertise, or a particular area where deep background knowledge is developed and the child begins to feel like an "expert" (Crowley & Jacobs, 2002; Gee, 2010). Once a child develops this feeling, he craves expertise in other domains, thus encouraging more learning and reading.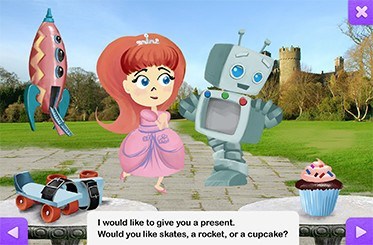 Focus on Comprehension
Every feature of Speakaboos is designed to boost comprehension: highlighted read-along text, rich illustrations, animation, and interactivity are thoughtfully combined to advance the plotline and build reading comprehension.
Research
Although comprehension is a complex construct, background knowledge is the largest contributor to whether or not a child understands what is being read (Willingham, 2015). Young children are actively building this background knowledge, and having explicit information presented in stories facilitates this knowledge acquisition.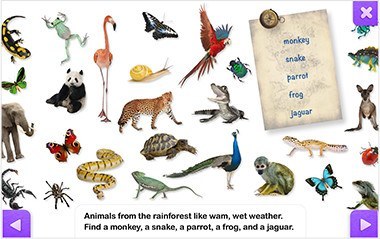 Grow Vocabulary
Speakaboos stories introduce young children to a rich and wide vocabulary. New and familiar words are presented within the context of a story.
Research
As stated, there is a strong link between background knowledge and comprehension. A large part of background knowledge is the size of one's vocabulary, or the understanding of words, their meanings, and how they fit into the world (Diamond & Gutlohn, 2015; Pikulski & Templeton, 2004). A strong vocabulary enhances comprehension and improves academic confidence, thus contributing to overall reading and academic success (Alexander, 2015; Stahl, 2005). Conversely, comprehending what is being read allows one to expand and deepen one's vocabulary and word knowledge even further.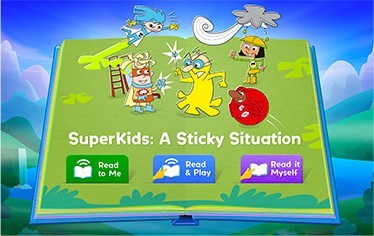 Scaffolded to Build Confidence and Mastery
Speakaboos stories feature multiple modes (Read to Me, Read & Play, Read It Myself) that children can choose from depending on their reading level, and each mode moves children at that level toward greater independence and fluency.
Research
Lev Vygotsky, one of the world's first developmental psychologists, stressed the importance of considering what a child can do with and without assistance. Often, we find with a bit of help or scaffolding, we can extend a child's ability beyond her current state of development. Good scaffolding ensures that the task is always slightly challenging, starting with strong assistance up-front that is gradually reduced as the child becomes more competent.
Speakaboos Scaffolds
Teachers may use the modes to differentiate instruction and scaffold students at different reading levels. All modes offer emerging readers, beginning readers, and transitional readers the opportunity to engage in literacy.
Read to Me
Designed for all readers, this mode is especially beneficial for prereaders and emerging readers. An engaging voice-over reads the text while each word is highlighted as it is read, making explicit such basic literacy concepts as sound-symbol relationships, reading from left to right, and spacing between words. The illustrations are animated to reinforce meaning. This mode gives readers the scaffolding needed to familiarize themselves with the story.
Read & Play
As in Read to Me, a voice-over reads the text, and words are highlighted as they are read. Children can delve further into the story by tapping on the illustrations to see additional animation on that page or tapping the words to hear them read aloud. These interactions are not enabled until after the text is read, ensuring story-based context. Interactivity deepens understanding of the text, provides multiple character points of view, and empowers the reader to help move the story forward.
Read It Myself
Designed for transitional and fluent readers, narration, text highlighting, and animation are turned off so children can read at their own pace, turn the pages, improve vocabulary, increase fluency, and visualize the story. Children can click on any word to hear it read aloud, and can also click on different parts of the illustration to see animations as in Read & Play.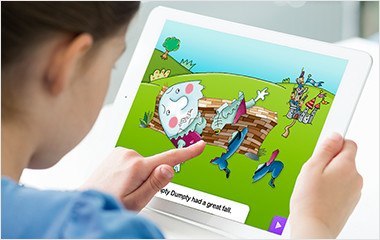 Kid-Tested Content
At Speakaboos, kids are our editors. We use the formative research process developed by Dr. Wilder and described in Malcom Gladwell's The Tipping Point. This involves testing every piece of content with our target audience multiple times during development and production.
Formative Research
Test, Test, and Test Again with Kids.
After watching children interact with the story, researchers go back to the writers, designers, animators, and programmers. Together they brainstorm changes based on the intended goal of the story, what kids find appealing, what they understand and don't understand, what questions they ask, and what they learn and don't learn. This way, we know what kids think of the stories, what they understand, and what they learn before we put it on Speakaboos.
Introduction to Foundational Literacy Skills
Speakaboos opens up a world of possibilities, whether it be reading and listening for enjoyment or allowing teachers to focus on comprehension skills, vocabulary development skills, or other foundational literacy skills. Some stories may be used simply to add to a classroom theme or unit of study.
Speakaboos stories, including songs, introduce kids to literacy concepts such as:
Story sequence
Characters
Setting
Vocabulary
Segmenting (phonological awareness)
Blending (phonological awareness)
Fluency
Word families
See 16 more
Letter sounds (phonics)
Author/illustrators
Repetition/predictable text
Sight words
Syllables
Punctuation
Grammar
Semantics
Syntax
Pragmatics
Voice
Print concepts and organization of print
Relationship between illustration and text
Rhythm
Melody
Rhyming
Application within Schools
Access anywhere from a computer, tablet, or phone!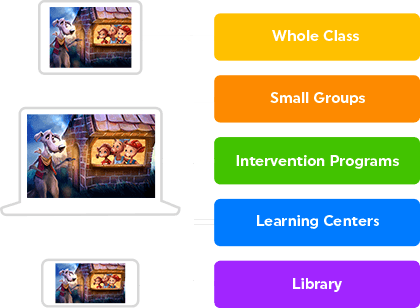 Teacher Testimonials
Reading Motivation

—Mrs. Truluck, first grade, Florida

"When my students get their computer time, Speakaboos is one of their favorite websites. Any time I can get students excited to read I know I have a winner of a website. There are many times my students say 'I don't like to read!' or 'This is boring!', but I have not heard any complaints from my students. Instead, I hear 'Can I go on Speakaboos?' or 'Can I just have five more minutes?'"
Reading Confidence

—Ms. Barrea, kindergarten, New York

"I have a student with a severe speech impediment. He rarely will talk and often needs lots of prompting to answer loud enough for others to hear him. He was listening to the song 'The Wheels on the Bus' and singing along. It was so wonderful to hear him talk and sing along."
Daily Reading Instruction

—Mrs. Duvall, librarian, PreK–fifth grade, Maryland

"Our teachers are thrilled to be able to use the site to enhance their Daily Five reading instruction. They love that we can use Speakaboos on our classroom computers, on iPads, and on the Chromebook. It really helps us to maximize the number of students who have access to the stories. As a librarian, it warms my heart to see my students have such a joyful reaction to stories. I really think that this website is helping them build confidence in their reading ability."
Independent Reading

—Mrs. Taboada, PreK–second grade, Pennsylvania

"My students enjoyed interacting with Speakaboos stories both on laptops and the SMART Board. I was happy to have a more dynamic piece of technology for our listening center during reading, and to see my students voluntarily practicing reading through the website during free time. This subscription to Speakaboos has increased motivation for learning to read and provided an interesting and engaging format for teaching and practicing reading fluency and comprehension. We love it!"
Common Core Support

—Mrs. Knox McLellan, third–fifth grade, Maryland

"The unlimited Speakaboos subscription is an outstanding literacy resource, which has increased and will increase reading enjoyment, phonics skills, and reading comprehension. Speakaboos has helped my students every single day! We have used it to learn new words, write essays and poems, increase fluency and comprehension, complete home assignments and book reports, and take assessments! I shared it with all my parents and every teacher at my school."